Roger Federer will play for his home country this weekend, but don't chalk it up to nationalistic pride — he has to play in order to be eligible for the Olympics this summer.
When Switzerland played the U.S. in Birmingham, Ala., in 2009, the "Greatest of All Time" bailed on his country only two weeks before the matches began, citing the decision a "precautionary measure" to heal a hurting back.  Of course, he played in Indian Wells, the big money tournament that started only a few days after the Davis Cup match ended.   His countrymen lost without him to an American team led by Andy Roddick.  Now that Roddick — a long-time Davis Cup participant — is out with an injury and Federer needs the credits to play for the gold in London this summer, he's all in.
Of course, the same goes for Serena and Venus Williams last weekend in the Fed Cup. You can bet it wasn't the chance to play Belarus in Worcester, Mass., in front of 2,279 fans that motivated them.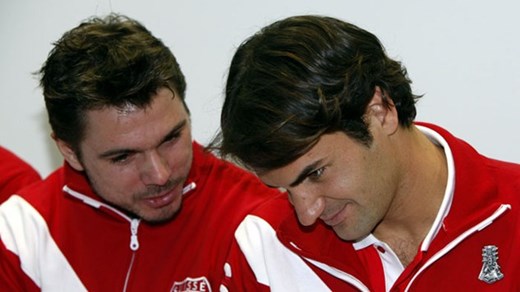 Link To Top Spin Blog
Copy and paste the code below into your website, myspace or facebook pages to spread the word about this post.