In an interview Peter Bodo did with me about my new novel on his TennisWorld blog on Feb. 4, his final question to me was, "Federer, or Nadal? And why."
I answered:  "I'm not allegiant to either one. What I would really love to see is my fellow Georgia Bulldog John Isner beat one of them on an Grand Slam stage, preferably in the finals of the U.S. Open."
I didn't think to add that I would take such a win in Davis Cup, but that's what Isner did this past Friday.  Not only did he put the American team in position to knock out the Swiss team (which they did in doubles on Saturday), it marks the most significant win for an American man since Andy Roddick won the U.S. Open nine long years ago.
For Isner to beat the widely anointed greatest of all time in his home country on clay in a best-of-five sets is nothing short of spectacular.   The only other American to beat Federer in a best-of-five match was Andre Agassi way back in 2001 in the U.S. Open, long before Federer reached his peak.
The career record of top American players against Federer is an abysmal 8 – 58. The biggest win against him before Friday would have to be James Blake's upset in two sets in the 2008 Olympics in China (Blake is 1-10 in his career against Federer).
As for other Americans?  Andy Roddick is 2-21 lifetime against Federer, with his wins coming in three set matches in Miami in 2008 and Montreal in 2003. Mardy Fish is 1-7, with his only win coming in three sets at Indian Wells in 2008.   Sam Querrey is 0-2, Robby Ginepri is 0-5, and Pete Sampras was 0-1. Agassi fared the best with a 3-8 record, but his three wins came in or before 2002.  He then proceeded to lose his last eight matches against Federer.
And now Isner is 1-2 against Federer.  Here's hoping we'll see the big man get another shot soon to even the score.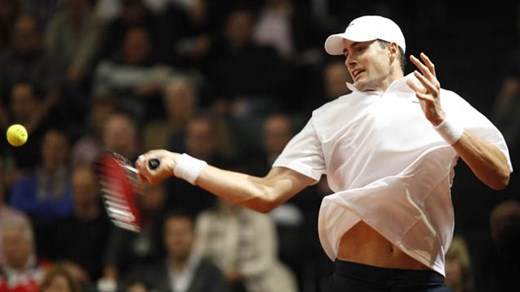 Link To Top Spin Blog
Copy and paste the code below into your website, myspace or facebook pages to spread the word about this post.